Workday Rising Sessions You Don't Want to Miss
Avaap is counting down the days until we're in San Francisco for Workday Rising 2023! Here are five sessions worth your while in The Golden City.
Transforming the Student and Employee Experience at Hinds Community College [SPSD2104]
Join Hinds Community College Director of Technology Tamisha Johnson and Vice President of HR Andrea Janoush as they tell Hinds' digital transformation story through the lens of students and employees, the process, benefits, and lessons learned.
Creating Better Student, Faculty, and Staff Experiences at the University of Akron [SPFN2538]
In this session, University of Akron CIO John Corby and Director of Application Systems Services Chris Muller will walk through how Workday and Workday Student are improving processes and increasing efficiencies, sharing metrics that show the power of transformation.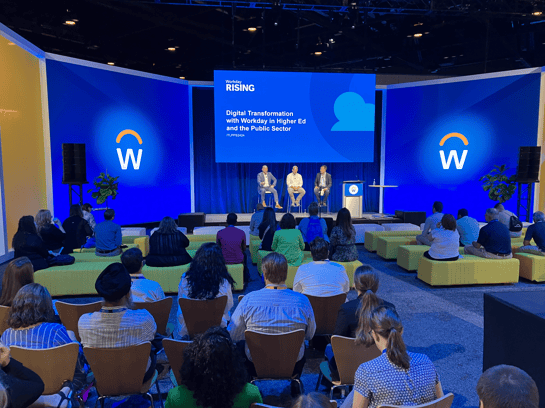 Future of Grants Management with the Workday Product Advisory Council for Research [INLP2190]
This cross-industry session with leaders from Washington University in St Louis, Mass General Brigham, The Ohio State University, and Workday will cover how Workday allows organizations to manage people, compliance, and grant funding with confidence.
Enhancing Financial Stewardship: From Legacy Systems to Leveraging Workday for Innovation [INLP1890]
Nonprofits across the country are digitally transforming with Workday. This session includes speakers from the National Geographic Society and the National Academy of Sciences and shows how each organization replaced legacy finance solutions and modernized with Workday, driving efficiency, streamlining operations, and ultimately driving innovation.
Driving Alignment and Accelerating Your Hiring Processes [HRLP1980]
This session with Southwest Airlines shows how recruiters and HR can collaborate effectively, make data-informed decisions, and work more efficiently with a modern talent acquisition suite, allowing transit organizations to secure top talent and retain top talent.
Headed to San Francisco for Workday Rising? Stop by the Avaap booth to connect with our experts and learn how Avaap partners with organizations across all industries to modernize and optimize systems, improve processes, and drive efficiencies.