50 Shades of Blue: Managing Disruptive Behaviors
As consultants, we build relationships with business leaders, provide the tools needed for effective change, and conduct ourselves in the most professional manner possible. We lead by example and treat others with respect and patience, building collaborative relationships that foster the trust business leaders need to achieve their objectives. In order to be successful, it is important for our business partners to lead by example and commit to helping us build the collaborative relationships needed for a successful transition.
We have all experienced working with difficult individuals. It can create challenges that seed confusion, discontentment, stress, and low productivity if not addressed. But what should we do when it's the client's behavior that is less than stellar? Effective partnerships are built on a foundation of respect and trust with an understanding that, while we our thoughts and approach may vary; we are willing to work together to achieve a common objective.
While working on a project in northeast Ohio, I encountered a difficult leader whose behavior affected the project's success. We began to see "shades of blue" – less than desirable behaviors that lead to less than desirable team dynamics.
Here are some behaviors and the archetypes that tend to derail transformation: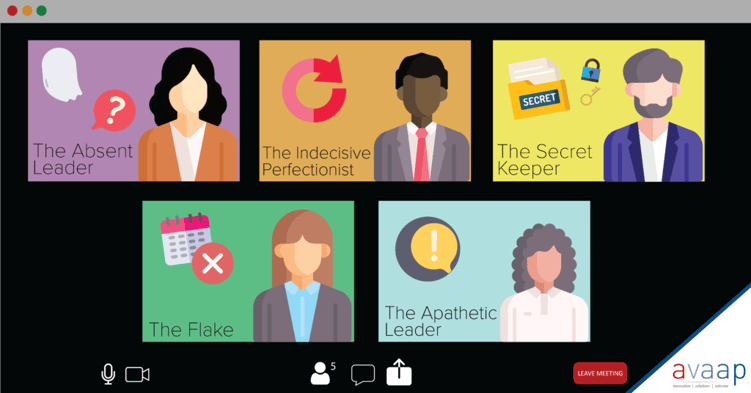 The Absent Leader
Minimal physical presence
Contact with team only during scheduled meetings
Not available when needed


The Indecisive Perfectionist
Continuous rework – done is never done
Changing requirements that impact your ability to complete deliverables
Discarding previously agreed upon tasks and activities


The Secret Keeper
Not sharing project related information that affected the work of other team members
Sending team members in search of the information they already had or knew


The Flake
Does not give others a change to contribute to the conversation
Diminished the knowledge, insights, or contributions of others
Is a no-show for scheduled meetings
Cancels meetings last minute with no explanation
Asks others to reschedule planned meetings to accommodate their schedule
Asks others to reschedule planned meetings to accommodate their schedule


The Apathetic Leader
Lacks empathy
Holds self to a different standard than that expected of the team
Conducts difficult conversations in public spaces with little regard to privacy
Devalues input from others on the team
Belittles team members in public
Confrontational and polarizing


While working with challenging leaders can be difficult, it is important to stay calm and remain respectful. Below are some tactics to use when dealing with a difficult individual.
Seek first to understand. Seek clarity by asking the questions needed to gain an understanding of what's happened to cause the behavior and/or what's not working. Once you understand what's happening, you can address the underlying issue(s).
Try to find a middle ground - request a more collaborative approach. Working side-by-side always deliver better results than a back and forth exchange. This approach encourages healthy exchange of ideas and permits in-the-moment clarification when directions are confusing.
Don't fan the flames. No matter how bad it gets, try to remain calm and focus on the issues, not the emotions. This is sometimes challenging but important to maintain your relationships and focus on the project goal.
Inform their leader if bad behaviors persist or escalates. Share your concerns with their immediate manager. If you're concerned about retaliation, request anonymity.
Loop your leadership team in. When you notice persistent signs of bad behavior, notify the leaders at your company and keep them informed. If intervention becomes necessary, they will have the information needed to support you.
As consultants, our first objective is to ensure that the stakeholders are happy and we are executing on deliverables. However, when individual behaviors adversely impact the ability to do your job and self-doubt, analysis paralysis, and reduced productivity results, it's time to consider options.
About the Author
Brenda Robinson is a senior consultant in Avaap's Advisory Services Change Management practice. She brings broad-based experience as a change management leader with focus on customer satisfaction, process adoption and efficiency, and bottom-line improvements. Contact Brenda to discuss change management in your organization.