Why is change management important for a Workday deployment?
The shortest distance between two points is a straight line, except when we are talking about change management.
When an organization begins a change initiative and employees are required to change the way they do their job, there is often an effect on the way in which people behave in the workplace. How well an organization manages change is the result of how an organization approaches the process of change management. Organizational change management is designed to mitigate disruption and minimize negative outcomes. Proper change management bridges the technical and people sides of transformation.

There are many principles of change management, many approaches, and several different methodologies. Which one you choose is less important than customizing it to your organization, your culture, and your operation. What we have learned over years of helping clients move through change is that there is no one size fits all approach. There are only common themes, especially when it comes to implementing software.
Change Management and Workday
A Workday deployment requires following Workday's methodology. The approach is fairly linear, whereas people are not linear, and moving people through a digital transformation like deploying Workday needs a solid approach to change management, customized to the organization and the project.

This past year, the Avaap change management team launched the Avaap Change Approach TM, built on our vast number of years helping organizations lead employees through change. Over the past several months, we have combined this approach with our years of experience in the Workday ecosystem to apply these best practices to support adoption success. The Avaap Change Approach is both structured and flexible, allowing our organizational change management consultants to be responsive to each organization's needs in a way that is unique to a Workday deployment.

Not everyone starts their change journey in the same spot nor moves through their change journey at the same pace. We align the Avaap Change Approach to the Workday deployment plan and customize our activities in a way that drives successful adoption.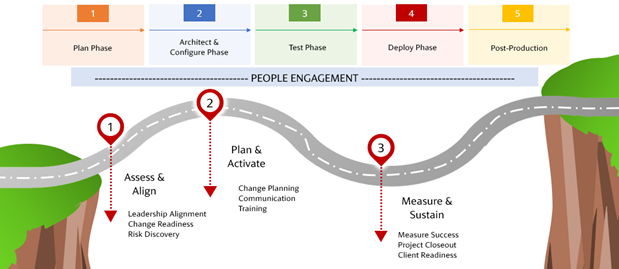 Here are a few examples of how the Avaap Change Approach works with the Workday deployment formula to create positive outcomes.
A big part of our Workday implementation success stems from recognizing and supporting the people side of change. Throughout the entire implementation process, change management encourages people engagement that enables stakeholders to choose their individual change journeys.

During the planning phase

of a Workday implementation, Avaap dynamically works through assess and align

activities

to deliver a customized change strategy. One key activity we use during this phase is a stakeholder analysis. This deliverable is used to understand how the organization views the change, how change happens in the organization, and the history of implementing previous changes. This sheds light on areas of strength that can be leveraged and areas where additional support may be needed for a positive transformative software change.
Depending on the service level selected, during the Architect and Configure phase of a Workday implementation, Avaap is actively engaged in the plan and activate tasks to deliver a tailored communications and training approach based on the organizations'

needs

. Additionally in this phase, we use our experience implementing Workday and moving people through change to encourage people engagement and feedback activities, like focus groups, surveys, and demonstrations, that drive change understanding.
Within the deployment phase of a Workday implementation, we conduct measure and sustainment actions to see what is working and what can be improved. This culminates in the development of a sustainment plan that encourages long term adoption.
If your organization is on the verge of a Workday digital transformation, it is essential that your team is prepared for the change. Connect with an Avaap Change Management expert to discuss your project roadmap and how you can support a successful Workday deployment from both a technical and people perspective.
Becky Grunig is a principal consultant in Avaap's change management practice. She is a certified change management professional (CCMP) and certified Avaap Change Lead experienced in helping government, nonprofit, and healthcare organizations implement Workday and lead individuals through successful digital transformation.