Key Components for a Successful Change Management Plan
Have you thought about your organization's change management strategy? Do you know how to move your organization from needing more information to realizing benefits?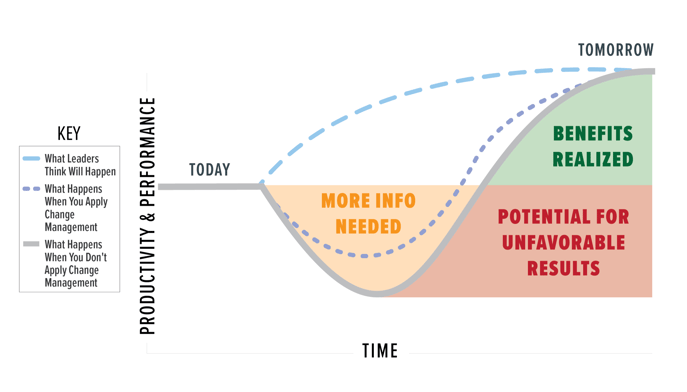 You should. Without a change management plan, things can get messy - and it's nearly impossible to have a smooth transition if you don't have a plan.
To make your next change productive, we put together a list of what to include in your plan and a few discussion guides to help you map your path forward.
Let's explore various aspects of a change management plan and why it's a critical piece of any business/organization transition. In this post, we're going to discuss:
Embracing change management provides several key benefits including:
| | | | | |
| --- | --- | --- | --- | --- |
| | | | | |
| Engaged and aligned leaders, at all levels | Mitigating disruption and resistance | Accelerated timeline for change adoption | Successfully achieve project objectives | Create long-term change sustainment |
Making sure change leaders are aligned will create key messages that ensure the people impacted by the change understand what is changing and why. Engaging people impacted by change during the change process will help avoid surprises and increase adoption of the change. Understanding the direction, use of resources, and planning and timing alleviates uncertainty and minimizes disruption to create adoption and sustainment.
Using a well thought out change management approach to assess, plan, and measure change drives long-term value. With decades of change management experience across industries, we've seen what change management strategies produce successful outcomes and which change management tactics achieve desired objectives.
The Avaap Change Approach™ is built on decades of real-world experience across industries and provides the foundation for how change is executed. It combines proven methods and industry research to create a straightforward methodology to successfully navigate change initiatives. Changing work habits, business models, and organization structures were the catalyst for adapting our practice and the way we do business to continue delivering unparalleled value and outstanding customer experiences.
Best practices in change management evolve over time, so it is important to stay current with how change is managed and how teams are guided through change.
From the time change is introduced, a great deal of uncertainty exists until the benefits of the change are realized. When managing a team through change, it is important to acknowledge the emotional side of change.
Include people impacted by change throughout the change process. Involving them in the change helps them understand the shared vision and how the project will affect them, making them more likely to be invested and minimizing risk and resistance. Encourage stakeholder engagement to express their concerns through various feedback mechanisms including town-hall meetings, one-on-one conversations, and surveys. Two-way communication allows change leaders to lessen doubt and helps impacted users understand why change is happening before rumors begin to spread. The right people engagement will increase the likelihood of success.
One key theme in organizations going through change is change fatigue, the resistance or passive resignation to organizational changes on the part of an employee. Change fatigue is one of the more challenging concepts to measure, as everyone has a different fatigue threshold. However, much like an athlete, there are ways to train for change, including increasing organizational and personal change resilience. Change resilience is easier to measure, as we can use an individual's historical performance and reactions to change to understand where an organization needs to continue to build change muscles.
Data and analytics add another dimension to change management efforts by arming your team with insights to drive metric-driven change management practices, recognizing the need for course corrections earlier, and highlighting progress updates. Change analytics adds measurable value to change management, enabling trend visualization and turning spreadsheet data into actionable information to head off the change fatigue before it begins.
Achieving successful leadership transitions depends on knowing where to focus time and attention. Leaders who transition to new roles face multiple challenges and competing priorities, various constituents for cultivating relationships, organizational and workforce data to review, internal and external agendas to set, and cultural and institutional nuances to learn. Change management training for leaders in transition will support leaders through change and establish a solid foundation for their future in the organization.
New leaders and employees working with new leaders need to navigate the transition and steady their teams by identifying and assessing the opportunities and risks in guiding their organization through change initiatives. Creating a meaningful way for people to understand transitions and make sense of their impact can help minimize distraction and build support of the change.
Whether you are new to change management or a seasoned change professional, the Avaap Change Academy™ offers programs to help participants build skills and change capability. The curriculum meets participants where they are by leveraging best practices and trending topics, all while delivering exceptional value through experiential learning to help navigate their change journey.
As you prepare to begin your change initiative, it can help to hear stories of organizations like yours who have navigated change successfully. Whether you are going through a culture transformation, adopting new technology, navigating a merger or acquisition, or another type of change, we have worked with others who have been through the change and can share lessons learned to help your team achieve a smooth transition for your own organizational change.
Get in touch to learn how Avaap helps organizations like yours successfully manage change by leveraging real-world experience and industry best practices through decades of change management experience.