Importance of Stakeholder Engagement as a Change Management Best Practice
You've probably heard the phrase teamwork makes the dream work, but have you ever put much thought into what that really means and how to put it into practice?
Imagine you were asked to implement a change and were given the opportunity to build a team of all-stars. Who would you include on your roster?
When thinking about assembling a team to implement effective change, you are probably including project managers, sponsors, and subject matter experts (SMEs) on your roster, but an often overlooked element to any successful change initiative is your stakeholders. If we are speaking in sports analogies, think of your project managers, sponsors, and SMEs as your offense and your stakeholders as the defense. Effective stakeholder, or people engagement, supports mitigating potential risks and identifying possible areas of resistance.
What is a stakeholder?
A stakeholder is any individual or group(s) of people who will be impacted or have an interest or role in a project, program, or organizational change.
What is stakeholder engagement?
Stakeholder engagement includes identifying, analyzing, planning, and implementing actions designed to integrate and influence stakeholders in your change initiative.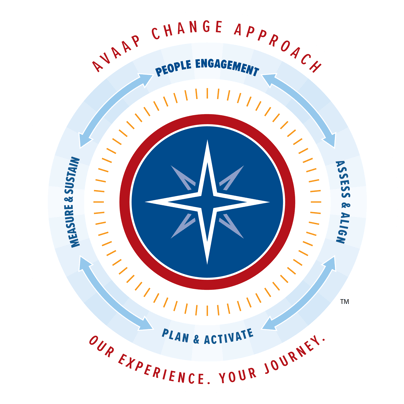 The Avaap Change Approach TM breaks up the change process into actionable steps to create a simple process anyone can follow. Here are three steps to build your employee experience and feedback plan.
1. During the Assess and Align phase, look for ways to create leadership alignment and build key messages based on the leader's vision. You will want to create ways to understand and gauge employee sentiment at various stages throughout the change cycle.
2. During the Plan and Activate phase, develop activities that create employee involvement in the selection, build, and testing of the tool or process you are implementing. If employees help develop the change solution, they are more likely to adopt it.
3. During the Measure and Sustain phase, implement activities that help ensure employees can provide feedback after deployment and provide guidance for final adjustments that might need to be made for adoption to be successful.
Why is stakeholder engagement important?
Involving stakeholders in the change process helps them understand the shared vision and how the project will affect them, making individuals more likely to be invested. This minimizes risk and resistance. Encourage stakeholders to express their concerns through various feedback mechanisms, including town-hall meetings, one-on-one conversations, and surveys. Two-way communication allows change leaders to remove doubt and help impacted users understand why change is happening before rumors begin to spread. People engagement is crucial and will increase the likelihood of success.
How do I engage stakeholders in change?
The first step to engaging people in your change project is creating an employee experience and feedback plan.
The intent of the employee experience and feedback plan is to ensure employees are engaged in the change initiative early and often and that the change team is using creative ways to gather holistic employee feedback throughout the project. Think of this as your defensive game plan. Building the document to capture employee experience and feedback will help you create ways to inform the sponsors and the project team about how employees feel about the change and identify how they can be supportive throughout the change process. It will also ensure leaders are spending more time and energy advocating for the change.
Where can I learn more about effective change?
Legendary Alabama football coach Paul "Bear" Bryant is credited with saying, "Defense wins championships." The Pittsburgh Steelers' famous "Steel Curtain" defensive strategy, which earned them four Super Bowl wins in six years, illustrates what teams can achieve when an engaged and informed defense is part of your winning strategy.
The same is true with any transition — the more engaged stakeholders are in the change process, the greater the alignment and buy-in, which leads to successful change management outcomes, quicker adoption, and realized benefits. To learn more about how to engage your stakeholders in change, explore Avaap's Change Academy.
Victoria Lemane is an Organizational Change Management consultant at Avaap and a certified Avaap Change Lead. Victoria is an experienced communications manager with a demonstrated history of working in global diverse industries supporting corporate, facility, and external communications. She has significant experience in leading communications strategies for change management, divestitures, and acquisitions. Victoria specializes in multi-media communications strategies, strategic messaging, content development, and organizational communications assessments.